Fuldautomatiske collaborative robotter tjekker glasampuller
ProInvent har udviklet et system af renrumsrobotter, der udfører vanskelige inspektionsopgaver med 3D-koordinerede bevægelser.
ProInvent har i det aktuelle projekt, så vidt vi ved, udviklet den fremmeste robot- og visionteknologi i verden til glashåndtering og inspektion for "chips and cracks".
Det handler det om et produktionssystem til at undersøge 400 små glasampuller til et lægemiddel, såkaldte 'cartridges', på én gang for skår og revner. Glasampullerne ankommer fra glasproducenterne i standardiserede æsker på paller, og de tunge og monotone arbejdsprocesser overgår lige nu fra manuelle til robotiserede processer.
I dag er samarbejdet mellem robot og menneske typisk således, at det er mennesket, der udfører den tungeste og sværeste opgave. Men i projekt arbejder robotterne sammen med andre robotter i 3D-koordinerede bevægelser, og vision guidance muliggør, at robotterne kan løse opgaven, så det hele fungerer fuldautomatisk.
Det handler bl.a. om at skabe høj produktivitet, et sundt arbejdsmiljø samt at frigøre medarbejdere til mere værdifuldt arbejde.
Robotterne er designede og certificerede til at arbejde i renrum, og det betyder, at de er superhygiejniske i deres struktur og mekanik, de afgiver ikke støv eller bakterier, og de er nemme at rengøre ved hjælp af afspritning, så robotterne og maskinerne kan arbejde uforstyrrede med minimale påvirkninger udefra.
ProInvent har en del projekter i gang inden for denne kategori, så nogle af de løsninger, der skal tages i brug, er allerede valideret og godkendt af kunder og myndigheder.
Til at løse håndteringsopgaven har ProInvent udviklet en unik griber, som kan håndtere alle 400 glasampuller på én gang. To robotter fra japanske Fanuc arbejder sammen om henholdsvis at gribe de mange glasampuller og fjerne æskerne. Et visionsystem bruges til at positionsbestemme æskerne, mens et mere avanceret QC-visionsystem bruges til at undersøge hver enkelt glasampul for skår og revner i et hug. De strikse regler for medico-/farma-produkter bevirker, at hvis der er skår i bare et enkelt af glassene, kasseres alle 400 enheder. Samtidig skal det gå stærkt med at få glassene sendt videre til in-feederen til de næste trin i processen som vask og fyld.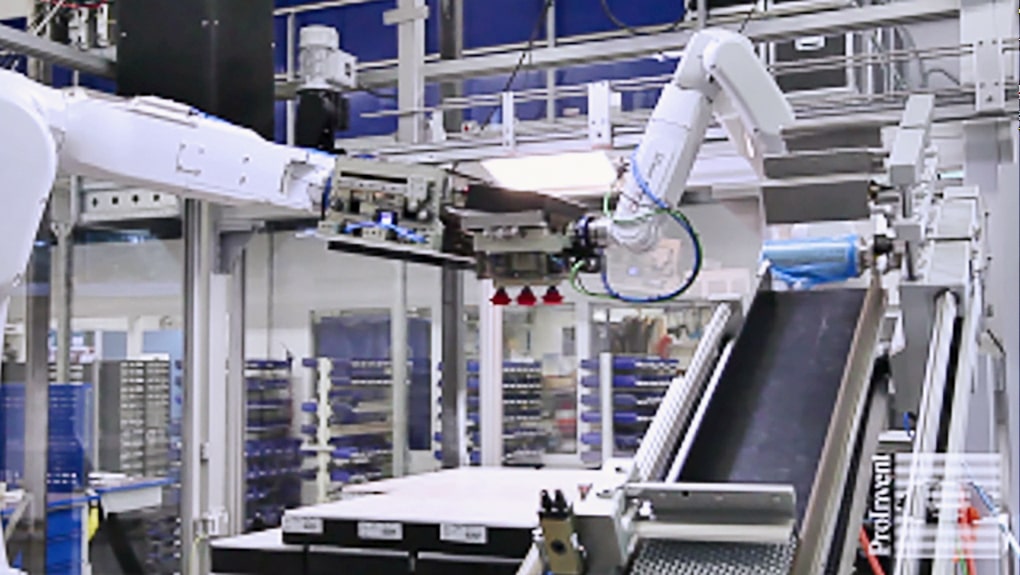 Contact
We have the competences to future-proof your production with customized innovative machine design