We are looking for employees with experience in development of new products and future production technology
ProInvent creates epoch-making production systems and special machines. What is unique about us is our creativity, project model, competences and experience based on more than 800 development projects. We solve technical development projects at top level in a close co-operation with our customers. When the pieces are conceived in a brilliant way the total solution creates higher productivity, increased earnings, a healthier work environment and better competitiveness. We have more than 50 dynamic employees who all together strive to provide epoch-making production systems, special machines, vision systems, and robot cells for our Danish and international customers.
You will get responsibility
In ProInvent you will become part of an ambitious company that prioritizes employee well-being high. Here you will get lots of challenges, and you will work with the latest technological solutions where only creativity sets limits. You will get responsibility and we support your development, whether you are a new employee, a specialist or a manager. We want to invest in your development so that together we can make a difference for our customers.
Respect and trust creates employee satisfaction
Mutual trust and respect are key elements of ProInvent which also gives a positive effect on the general work environment. When entering our premises and workshop you will register the enthusiasm and good energy that drives our working days. We celebrate our successes and are very proud of our team performance when we deliver a new machine to a customer.
Therefore we need creative brains that do not only have good grades and are able to pass the traditional personality- and intelligence test in a hiring procedure, but surely have some more…….
CEO Leif Dalum uses words like powers of observation, abstraction and association when he describes his expectations to his present- and future employees.
"For me, hiring is about testing people's ability to imagine solutions. We often ask candidates to solve tasks during the interview in order to observe how they approach the task and what they think of", says Leif Dalum.
He wants to develop a work environment where the employees have the possibility to use their creative skills. But to Leif Dalum this is not entirely about free play with technology:
"I am convinced that the best solutions are found if you are currently challenged, have a set of rules and a clear goal for the project". I learned that from Mogens Myrup Andreasen during my time at DTU and IPU. The latest research results, led by Janina Marguc from Amsterdam University, show that training, rules and objectives, create the most innovative solutions", he explains.
Without being able to reveal the names of the two other major customers Leif Dalum and his senior partner, Peter Ahlberg, give us a guided tour through the assembly workshop. The projects are under construction after being simulated in ABB's Robot Studio where all processes can be built and tested in a full 3D world.
Are you passionate about reaching new heights and creating new developments with machine design?
We are currently looking for new employees, and you are always welcome to send us your unsolicited application to CEO Leif Dalum. If your competences do not meet our needs right now we would like to save your application for later if you allow us to.
job@proinvent.dk

An insight into the daily life of ProInvent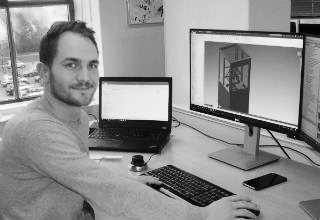 Frederik Nygaard
Sales- and Project Manager, B.Eng. (M), 35 years
My work in ProInvent consists of concept development of 3D constructions of industrial machines for various customers with their various niche products. I am lucky to have the best job in the world, owing to the fact that in ProInvent we do not develop two identical machines, so every day brings new challenges – and there is not far from thought to action. Every new task requires that we make ourselves acquainted to new technologies and that we utilize the experience we have gained from a large number of successful projects. I follow and influence the whole process closely from idea, design, purchases, assembly instructions and documentation for the commissioned machine at the customer.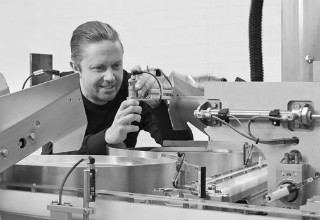 Lasse Jensen
Head of Assembly Department, 43 years
In ProInvent we develop unique machines with the latest modern technology. Since our customers have widely differing needs for production machines we never build the same machine twice. We never have two identical working days in our workshop and that's what we love. We have a close co-operation and an ongoing dialogue with ProInvent's other departments so that all comes together. We influence the design of the machines from the first line being drawn till the final design and test at the customer – either in Denmark or abroad.