Rockwell Automation OEM-partner
ProInvent is Rockwell Automation OEM-Partner for Machine Builders.
We have achieved this status because in a unique way we combine Rockwell Automations's products, know-how and automation concept with ProInvent's industrial- and application related knowledge and experience as an advisor and contractor concerning development and effective production systems.
The requirements to a partner includes among others:
Application experience in one or more industries
A high level of technical education
Product knowledge and deep experience with Rockwell Automation's concept
Continuous training in products and method of integration
ProInvent fulfills these requirements and based on this we have developed an open AB-standard
platform where it is very efficient to build machine controls with integrated PLC, servo and HMI.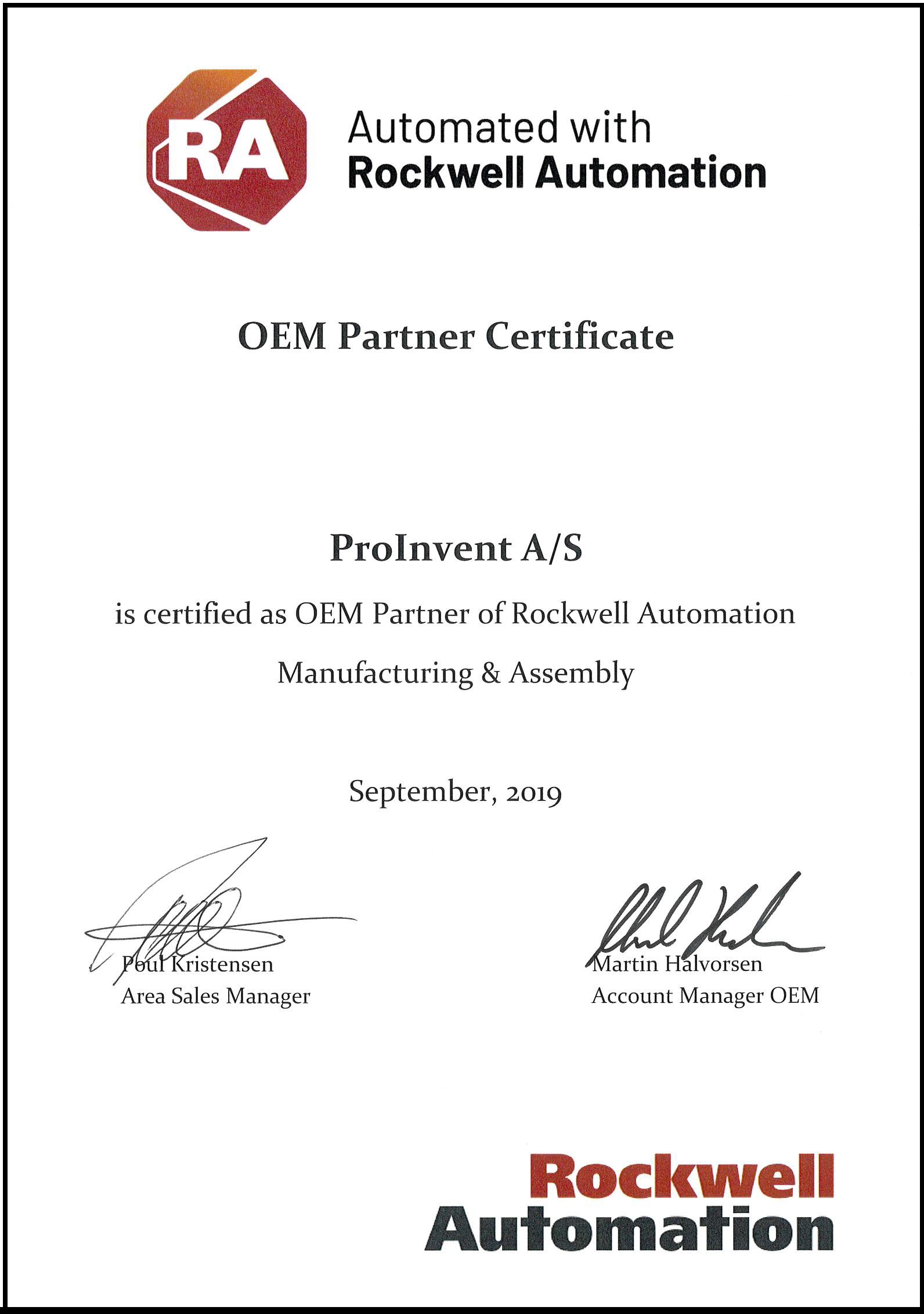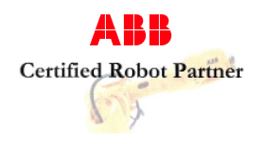 Certified Robot Partner of ABB
ProInvent became certified Robot Partner in 2005 and is a member of ABB Global Partner Program for robotic based automation. Specifically these awards mean that ABB points to us as an advisor or supplier when special development and production equipment is required or when it comes to delivery of vision controlled robotic machines. It is ProInvent's extensive knowledge and experience with robot simulation, vision control and offline programming that made ABB certify ProInvent.
When we choose an industrial robot we take into consideration which robot would be the best for solving this special task, and at the same time we check the supplier's ability to provide a good service.
We have good experience with both ABB, ADEPT, and KUKA robots, and our experience mentioned above made ABB certify ProInvent as the first PickMaster Partner in Denmark in 2005. Since 2006 ABB has rated ProInvent as a general certified Robot Partner, and we are one out of three companies in Denmark who has that certification.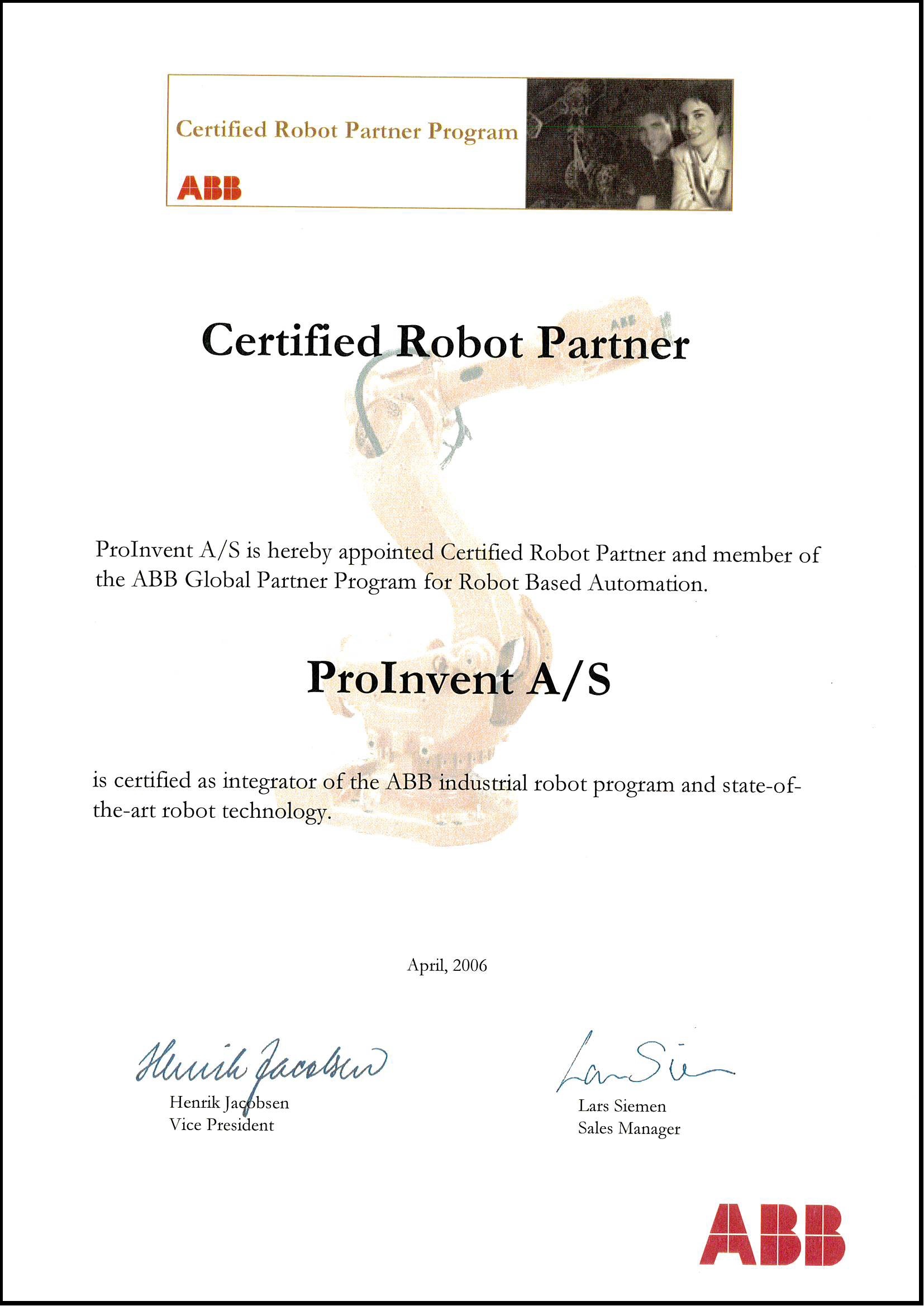 Trained Cognex Integrator
In some industries, Cognex is considered an industry standard. Therefore, ProInvent is a certified trained Cognex Smart Camera integrator. We are experienced in designing and implementing complete vision solutions, including camera hardware, optics, illumination, programming, and interfacing with other automation components. By completing the training, we have gained specialized knowledge in Cognex In-Sight, and we are capable of fully utilizing the potential of these relatively simple vision systems.
Besides the Cognex Smart Cameras, we are also working with Cognex VisionPro, Designer, and ViDi, which are PC based solutions with a complete feature set, including Deep Learning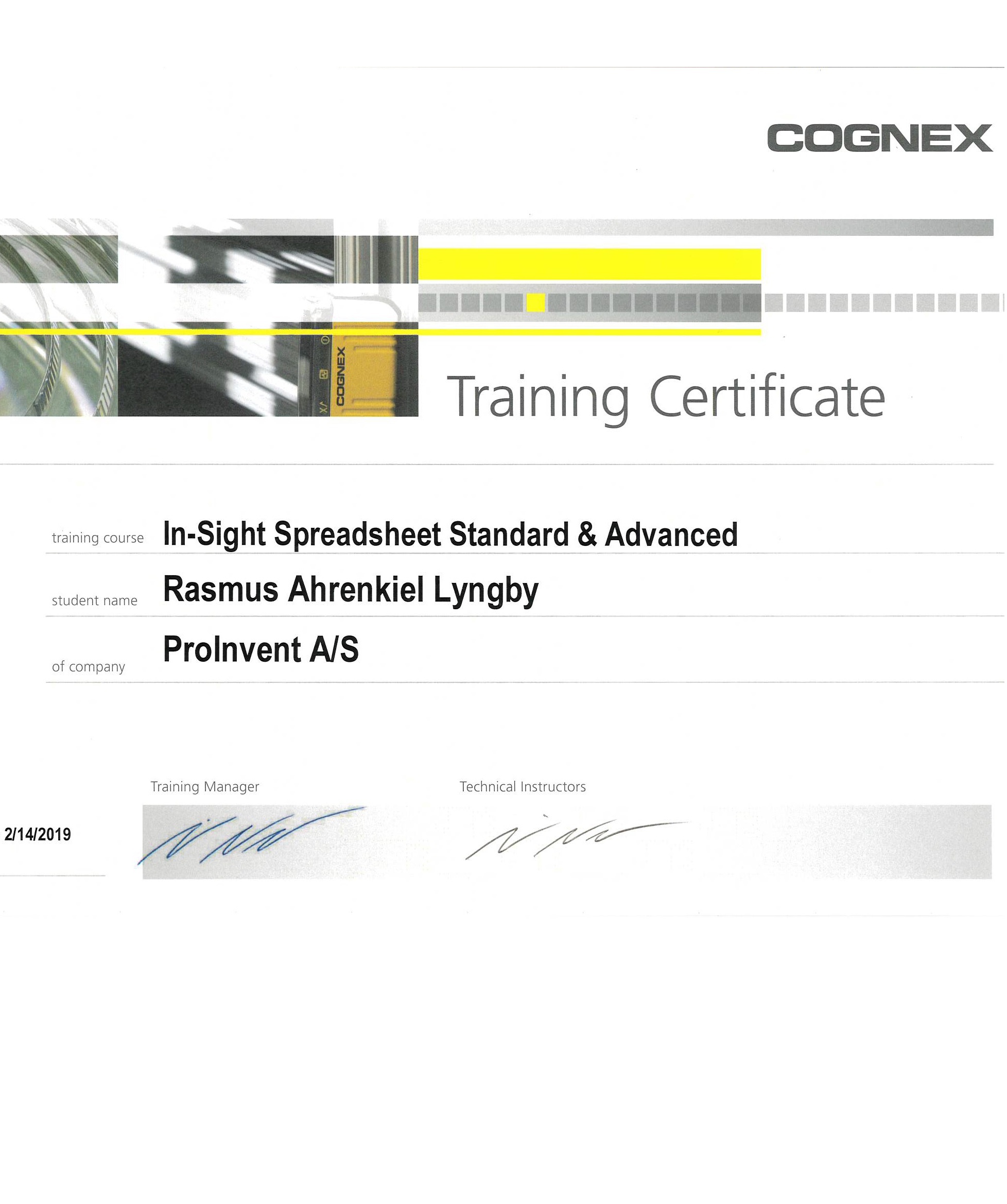 Special expertise in high dynamic servo systems make us IAI solution partner
ProInvent is a certified IAI solution partner in servo system integration. We are experienced in designing and implementing complete servo solutions, including dimensioning, hardware design, programming, interfacing with other automation components and running in. We have gained specialized knowledge in IAI servosystems, and we are capable of fully utilizing the potential of these servo systems. The certificate is issued by IAI and Delta Elektronik A/S and we uses primarily systems in their program: Kollmorgen, Trio Motion, Panasonic, LinMot actuators and AMK, due to the high performance level of these systems, combined with highly competent support from Delta Elektronik A/S.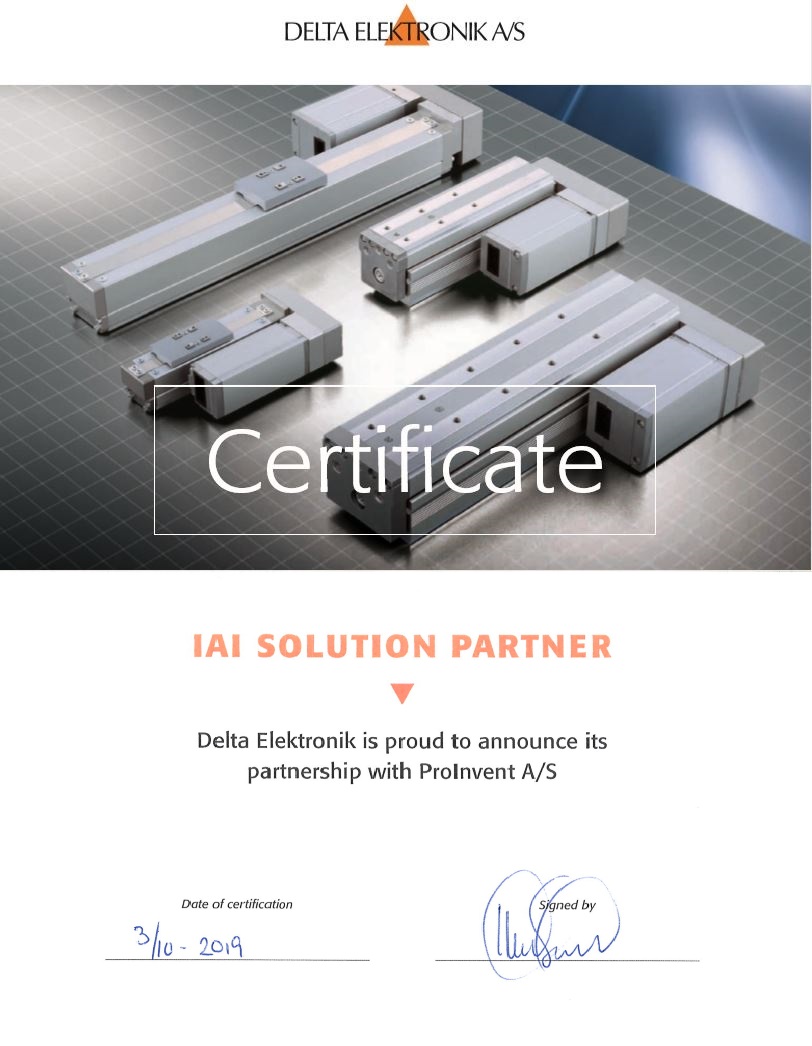 Omron Solution Partner
Being an OMRON Solution Partner ProInvent is approved system integrator – and through this partnership our employees are educated in AnyFeeders and vision guided OMRON robots.
Read more about robot technology at ProInvent.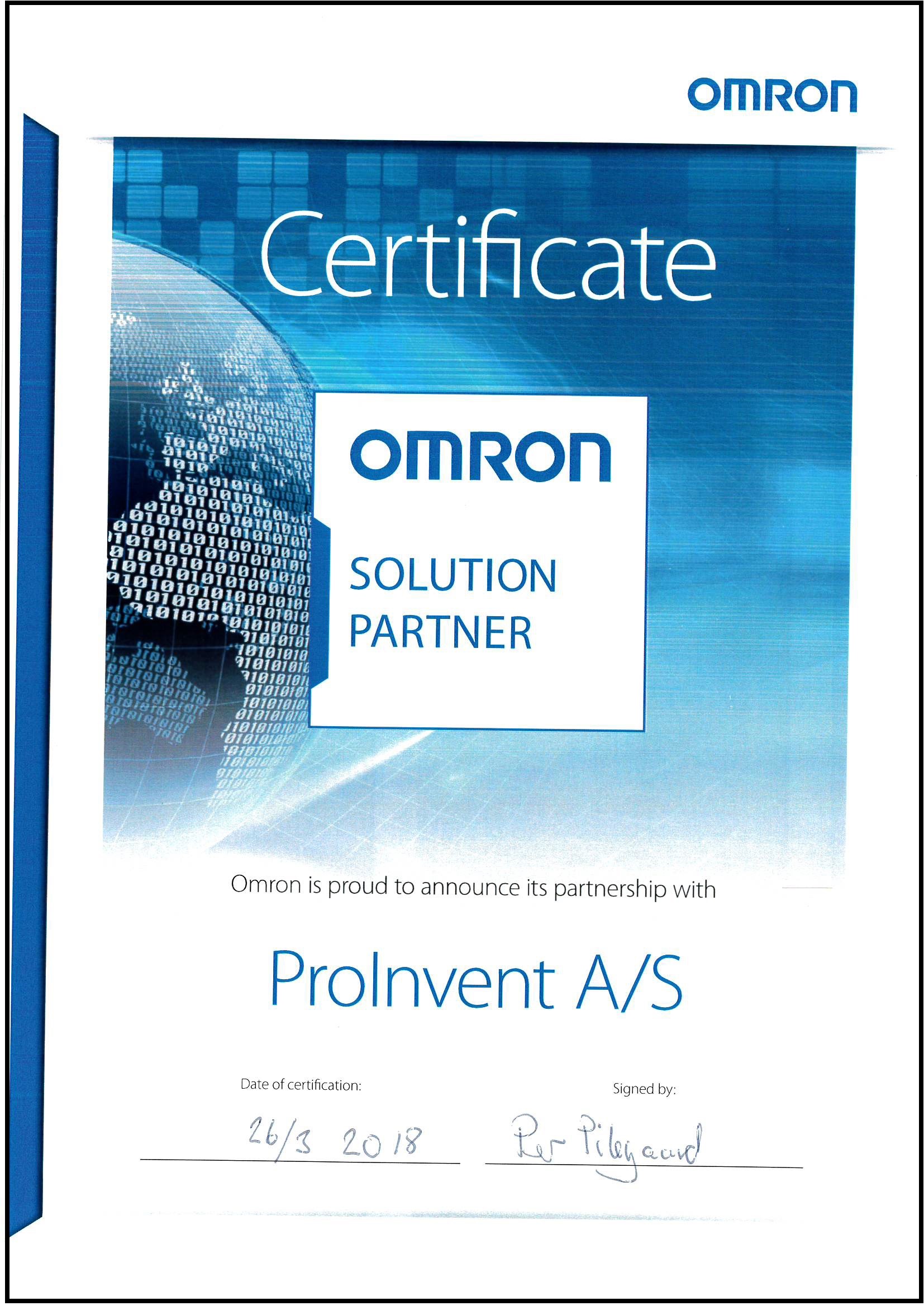 Siemens
In addition to the brands with which we have certificates, we have extensive experience with the Siemens Automation Platform for PLC control and HMI.
.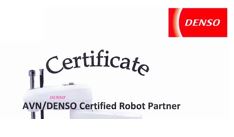 Denso Robot Partner
ProInvent is certified Denso Robot and a member of The Scandinavian Partner Program for Denso Robot Automation.